Permalink link Published 26 March 2016
Sideways Steve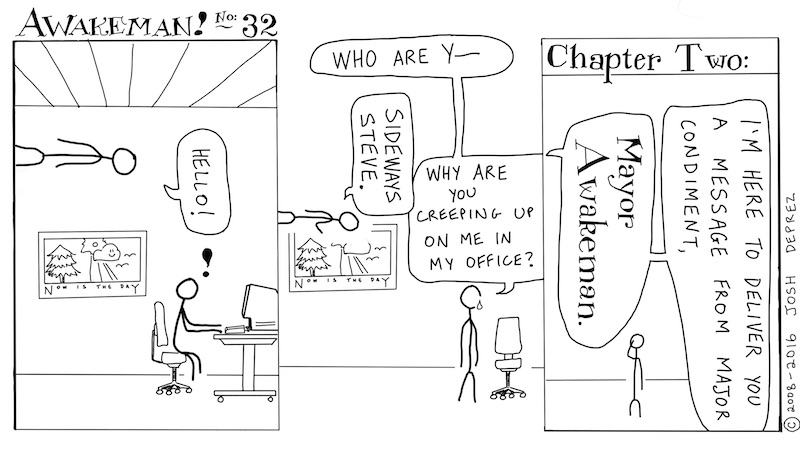 I did that thing with the chapter title again. Fuhuhu~!
chatTranscript

Panel 1

Awakeman is sitting at a desk on an adjustable office chair, operating an old Macintosh-style computer. On the wall is a motivational poster ("Now is the day"), very slightly askew. Flagrantly standing on the left edge of the panel, as though gravity were naturally at right angles to the scene and not the conventional "downwards", is another character. Even their speech bubbles are brazenly rotated 90 degrees from the norm. Bit of a shifty one, you might think.

PERPENDICULAR CHARACTER: Hello!

Awakeman startles.

Panel 2

Awakeman gets up and faces this new person.

AWAKEMAN: Who are y–

PERPENDICULAR CHARACTER: I'm Sideways Steve.

AWAKEMAN: Why are you creeping up on me in my office?

Panel 3

Title: "Chapter Two:"

SIDEWAYS STEVE: I'm here to deliver you a message from Major Condiment,

SIDEWAYS STEVE / CHAPTER TITLE: Mayor Awakeman.