Permalink link Published 5 August 2016
Halt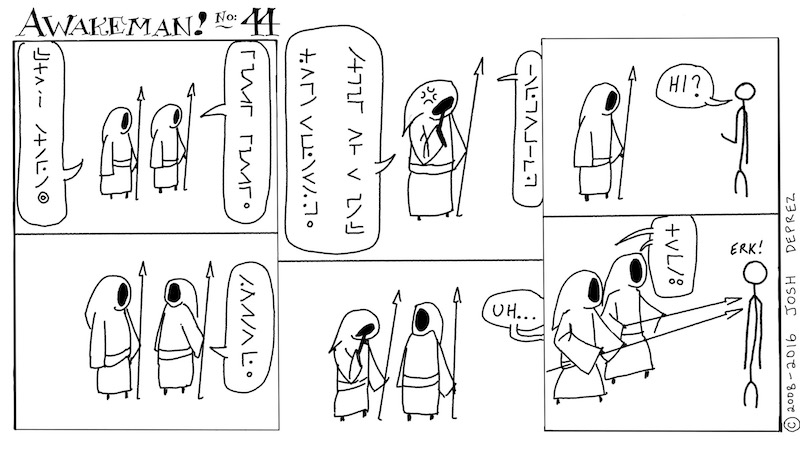 Panel 1
Two robed characters stand next to one another, each holding a polearm. They appear to be guards.
GUARD 1: ┐Ґ>ܠ┐ ┐Ґ>ܠ┐⚬
GUARD 2: ╚┼>•| ⟍┼⟋⟔⟋⊚
GUARD 1: ᔀ>ܠ⟍>⟔⚬
Panel 2
Guard 2 applies a hefty dosage of palm to their hooded face.
GUARD 2: |⟋⟔┘>└|┌ᒲ
GUARD 2: ⟍┼┘Ґ┐ >⊤ < Ґ⟋╚ ⨥>┐⟋ <┌⟔⟋<ᔀᒲ⚬
Guard 2 continues facepalming.
AWAKEMAN (off-panel): Uh…
Panel 3
Awakeman looks at Guard 1.
AWAKEMAN: Hi?
The guards assume a stance and point their arms at Awakeman's chest.
GUARDS (together): ┼<┌⟍⚬⚬
AWAKEMAN: Erk!